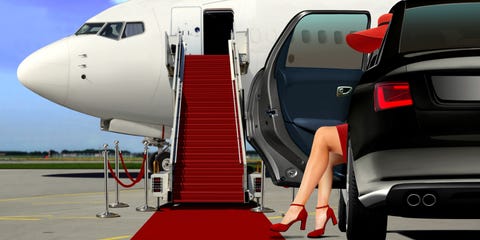 Whether you're looking to elevate your in-flight experience with an upgrade, deciding on the best time to fly, or picking the least germy seat on the plane, life above 30,000 feet is filled with quandaries. Luckily, finding the answers doesn't need to be complicated—all it takes is a little insider information to unlock the secrets of the skies and make your time at cruising altitude smooth sailing.
Everything Tastes Different in the Air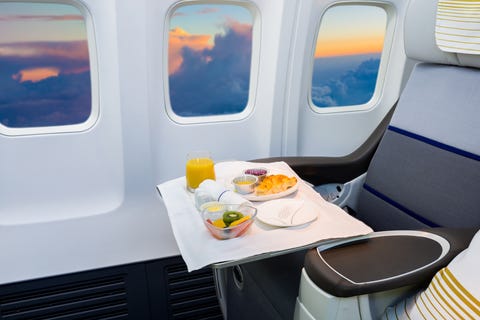 Altitude can affect more than your inner ear—when it comes to your tastebuds, cruising altitude can also make a drastic difference in your palate. The combination of cabin pressure and low humidity combine to dull certain flavors and heighten others, according to Andrea Robinson, a Master Sommelier who selects wines for Delta. Fruity flavors like red berries suffer the most, because much of what we perceive of those tastes are influenced by scent; that's why most wines on airplanes end to have a fruit-forward profile.
"Wine also seems to be more acidic and watery when consumed in-flight, so you may not enjoy that glass of rosé as much as you would on the ground," says Hawaiian Airlines flight attendant Mapuana Faulkner.
When picking out a sip to match your in-flight meal, you're better off with a jammy malbec, pinot noir, or chablis than you would be with the barolo or chardonnay you might choose on the ground. Look for bottles that don't depend on oak aging—that buttery note can come across positively greasy at elevation—and avoid too many tannins which can make wine seem astringent at 30,000 feet.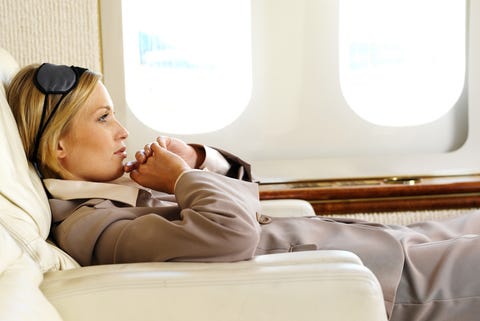 Want to up your chances of getting that first class upgrade? There are the obvious things you can do, of course—like opting in to your airlines rewards program—but there are also some sneaky tricks that can improve your chances.
Dressing for the part, for example, can increase your odds of beating others to the upgrade list. "I am not going to put someone wearing flip-flops up front with our best customers," one gate agent told AirFareWatchdog.com founder George Hobica. So save yourself some suitcase space and slip into your blazer or most stylish boots before you head to the airport.
Another handy trick for improving your seat assignment is to ask the gate agent: "Has revenue management released any first-class seats for miles upgrades yet?"This tip, from frequent flier and author Tilly Bagshawe, can sometimes work when asking about upgrades.
The One Thing You Shouldn't Drink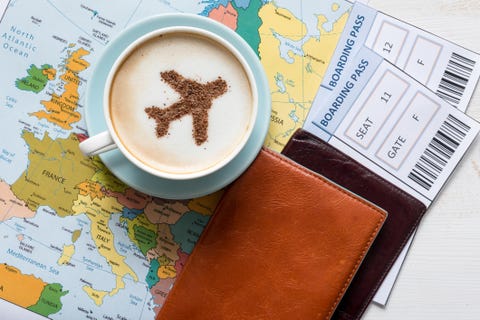 Coffee and tea may sound like just what your early morning flight needs, but there's a good reason you won't catch flight attendants sipping on either of those brews.
Unlike your other in-flight beverage options, coffee and tea are brewed with water from the plane's tap, and the regulations for how often a plane's water tank has to be disinfected gives airlines a lot of leeway. In fact, EPA testing in 2012 showed that 12% of the commercial airplanes they looked at tested positive for coliform bacteria (the class to which e. coli belongs) at least once. Consider this your go-ahead to just have the soda—for once it might actually be healthier.
Your Flight Attendant is a Font of Knowledge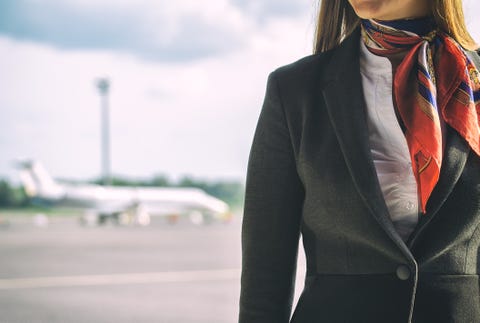 You may not immediately think of your flight attendant's sommelier certification, but if you're flying Singapore Airlines you could be getting a fully-trained tasting expert anyway. In fact, many airlines have begun incorporating high-end education from dining etiquette and five-star plating to wine tasting into their flight crew training.
"When you're serving things like Dom Perignon and Bordeaux, you need to have a thorough understanding of what you're pouring," a flight attendant from Emiratesexplained. "We need to know the difference between old world and new world wines, as well as champagnes, bourbons, whiskeys, and other spirits."
There is a "Worst" Season to Fly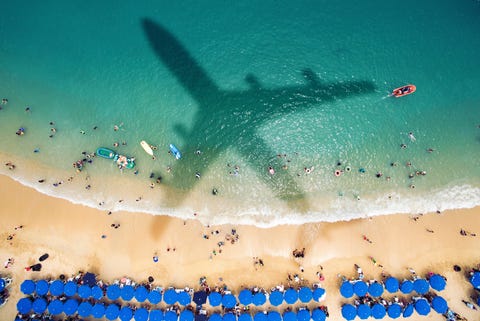 Despite the holiday season's reputation for air travel expense, when it comes to the combination of value and customer service, you might be better off avoiding the summer months.
Between the sunny weather and school being out, most Americans take their vacations in July or August, driving up the price of flights (the period between June 22 and August 27 is projected to have some of the highest fares of 2018.) Of course, all of those rowdy kids, party-bound collegiates, and surly families who have been traveling too long make it the flight crew's least favorite season too, which pretty much guarantees that no one on your plane is having a good time.
You Can Get Unexpected Freebies, If You Ask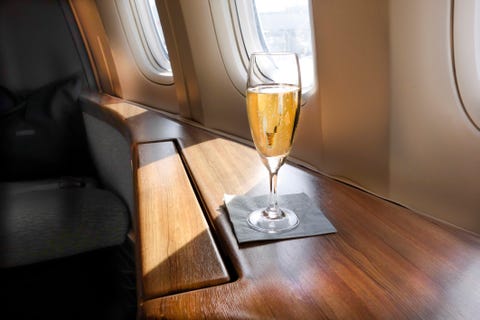 While airlines don't exactly advertise it, there are certain above-and-beyond services that you can nab if you bother to ask. A full can of soda instead of the usual pour, a mini-bottle of water, or an extra snack can often be easily acquired from your flight attendant, while unexpected little perks like a sanitizing wipes for your tray table or a band-aid may require a special request but are usually on hand for the flight crew.
Other bonuses may be a little more under-the-table. Many airlines, for example, make it a policy to offer a free premium snack or drink on delayed flights, but they don't make a point of announcing it—you have to know to ask.